RABBI JEFFREY B. LIPSCHULTZ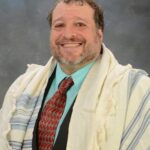 Rabbi Jeffrey Lipschultz has been active as a conservative rabbi for the last 20 years; he was raised in Tempe and Scottsdale, Arizona. He majored in political science and Psychology at Fort Lewis College in Durango, Colorado and received a Masters degree in Jewish Education from The Jewish Theological Seminary in New York. He was ordained in 2007 by the AJR/CA (Academy for Jewish Religion, California) and privately ordained in Israel in 2002. He served as Rabbi for six years at Temple Beth Sholom in Chula Vista, California before moving to Beth Judah Temple in Wildwood, NJ where he served for seven years.  He then moved to Rock Island, Illinois and was rabbi at the Tri City Jewish Center from 2015-2019.  He and his wife Naomi and three children Ari 12, Alex 9 and Asher 4 moved to Phoenix, AZ to return home to be near family where Naomi works as a Physical Therapist at Banner Health in Sun City and Rabbi Lipschultz is the staff Rabbi for Madrona Hospice and Palliative Care and helped oversee as they received certification as a Jewish hospice through the NIJH.
Rabbi Lipschultz has been a columnist for the Sand Diego Jewish Heritage and the Cape May County Herald and a regular contributor to the American Rabbi Magazine.. He was the Rav HaMakshire, or head of Kashrut, for Atlantic and Cape May Counties in NJ.  Rabbi Lipschultz was also involved with the Wildwood Ministerium and a guest lecturer at Wildwood Catholic High school as well as the Rock Island Interfaith alliance. He was also Hillel advisor for Augustana College in Rock Island and Kosher overseer at University of Iowa Hillel. He was  a member of the San Diego Rabbinical Association (SIDRA), The South Jersey Association of Rabbis and Cantors, The Philadelphia Board of Rabbis  and the Chicago Board of Rabbis and Phoenix Board of Rabbis as well as a member of OHALAH and AJR/CAA.
Rabbi Lipschultz is excited to work at Beth Emeth, a congregation he once applied to twenty years ago right after returning from Israel and now is more seasoned to begin his tenure at the shul.
Rabbi Lipschultz is a movie enthusiast and likes finding a pop culture relationship to Judaism.  He enjoys jogging, tennis, and golf as well as spin classes.  Rabbi Lipschultz can be reached at DVJewish@rof.net.