Cantor David Montefiore               Sisterhood             
Cantor David Montefiore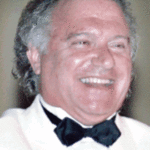 David Montefiore was born in war-torn London, England to a life of music, where his father was First Cantor of the United Synagogue in London.  David's vocal diversity has brought him international acclaim. His vast repertoire, which includes opera, oratorio, lieder, musical theatre, and cantorial recitatives, has been performed for audiences throughout North America, Europe and Israel.  The tenor made his Carnegie Hall debut with the St. Cecilia Orchestra and Chorus, followed by a European debut with the Rome Festival.  In 1985, with the Haifa Symphony, Montefiore was introduced to Israeli audiences as Alfredo in Verdi's La Traviata.
Alfredo remains one of Montefiore's favorite operatic roles, along with Nemorino, Nadir, Edgardo and the Duke of Mantua. His oratorio performances include Handel's Messiah and Israel in Egypt, Haydn's The Creation, Puccini's Messa di Gloria, Mendelsohn's Paulus and Mozart's Coronation Mass. On radio, Montefiore has appeared on a wide range of programs, such as WNYC's Opera Stars of TomolTow and WQXR's The Listening Room. Television and film guest appearances include Constitution Hall Anniversary (PBS), The Ninth Miracle (WPIX), A Matter of Conscience (Emmy Award winner, CBS), The Joe Franklin Show (WWOR), and NBC Today.
As Artistic Director and founding member of the American Opera Repertory Company, David Montefiore directed and performed many of the standard operas in New York City.
Montefiore studied voice with Giulio Gari and Milan Petrovic of the Metropolitan Opera, as well as Olga Ryss of the Julliard School of Music. In England, he received a scholarship to study opera repertoire with Maestro Manfredi Argento at La Scala, Milan.
Today, Montefiore is a member of the American Guild of Musical Artists, Actors' Equity, and a Voting Member of the National Academy of Recording Arts and Sciences. His recordings of opera and cantorial recitatives are available through his international representatives, BEHAR/BERG, U.S.A.
Note:  A number of U Tubes recorded by the cantor are freely available on the Internet.
Sisterhood

You know that old joke "Behind every successful man is an exhausted woman"?
Well behind every thriving synagogue is an enthusiastic and willing Sisterhood and Beth Emeth is no exception.   Our members conduct the annual Sisterhood Shabbat service, fund-raise, cater, decorate the sukkah, present community programs and generally are even more indispensable than you can imagine.
Below is the framework of our plans for the year, additions often happen and we're always interested in new members and new ideas.
Usually all Board Meetings are held on the first Thursday of the month at 9:30 a.m.
All Sisterhood Membership Meetings are held the second Thursday of the month usually at 1:00 p.m.  Please mark the dates of the Sisterhood Meetings.  Any woman who has joined Beth Emeth Congregation since March 2016 is a member of Sisterhood until Dec. 2016.
Watch this site for coming activities.
Save
Save
Save
Save
Save
Save
Save
Save
Save
Save
Save
Save
Save
Save
Save
Save
Save
Save
Save
Save
Save
Save
Save
Save
Save
Save
Save
Save
Save
Save
Save
Save
Save
Save
Save
Save
Save
Save
Save
Save
Save
Save
Save
Save
Save
Save
Save
Save
Save
Save
Save
Save
Save
Save
Save
Save
Save
Save
Save
Save
Save
Save
Save
Save
Save
Save
Save
Save
Save
Save
Save
Save
Save
Save
Save
Save
Save
Save