Rabbi Tracee Rosen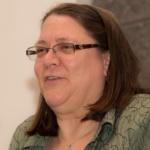 Beth Emeth Congregation of the West Valley welcomes Rabbi Tracee Rosen
Rabbi Tracee Rosen has lived in the Valley of the Sun for the past 7 years. She is the rabbi of Beth Emeth Congregation in Sun City West. Previously she was the spiritual leader of Temple Gan Elohim in the West Valley, and the Director of the Florence Melton School of Adult Jewish Studies for the Board of Rabbis of Greater Phoenix. Prior to coming to Phoenix, she was the senior rabbi at Congregation Kol Ami in Salt Lake City, Utah, and one of the rabbis at Valley Beth Shalom in Encino, California. She is a graduate of the Ziegler School of Rabbinic Studies at the American Jewish University in Los Angeles, where she received numerous awards for academic excellence. She also earned an MBA at Washington University in St. Louis, and prior to becoming a rabbi, she was an assistant vice-president at one of the largest banking firms in the country. Rabbi Tracee and her wife, Keren Goldberg, have one daughter.
Sisterhood

You know that old joke "Behind every successful man is an exhausted woman"?
Well behind every thriving synagogue is an enthusiastic and willing Sisterhood and Beth Emeth is no exception. Our members conduct the annual Sisterhood Shabbat service, fund-raise, cater, decorate the sukkah, present community programs and generally are even more indispensable than you can imagine.
Below is the framework of our plans for the year, additions often happen and we're always interested in new members and new ideas.
Usually all Board Meetings are held on the first Thursday of the month at 9:30 a.m.
All Sisterhood Membership Meetings are held the second Thursday of the month usually at 1:00 p.m. Please mark the dates of the Sisterhood Meetings. Any woman who has joined Beth Emeth Congregation since March 2017 is a member of Sisterhood until Dec. 2017.
Watch this site for coming activities.
Save
Save
Save
Save
Save
Save
Save
Save
Save
Save
Save
Save
Save
Save
Save
Save
Save
Save
Save
Save
Save
Save
Save
Save
Save
Save
Save
Save
Save
Save
Save
Save
Save
Save
Save
Save
Save
Save
Save
Save
Save
Save
Save
Save
Save
Save
Save
Save
Save
Save
Save
Save
Save
Save
Save
Save
Save
Save
Save
Save
Save
Save
Save
Save
Save
Save
Save
Save
Save
Save
Save
Save
Save
Save
Save
Save
Save
Save
Save
Save
Save
Save
Save
Save
Save
Save
Save
Save
Save
Save
Save